BEGINNINGS
"...stories are found things, like fossils in the ground... Stories are relics, part of an undiscovered, pre-existing world."
-Stephen King
"The good thing about writing books is that you can dream while you're awake."
-Haruki Murakami
Before I knew quite what sort of a story I wanted to tell, I read or re-read a variety of books & comics for inspiration. One in particular, Danse Macabre, by Stephen King stuck with me, or at least a passage from it did. In it, King talks about three classic horror novels - and the monsters in them - as the foundations of the modern horror story. The three archetypes are the Vampire (as in Dracula), the Werewolf (as in Dr. Jekyll & Mr. Hyde) and the Thing Without a Name (as in Frankenstein). He also mentions a sort of hidden fourth archetype, the Ghost (as in The Turn of the Screw).
I wasn't setting out to make a horror book, necessarily, but I do like the horror genre. I never really set out to tell a story in a specific genre when I sit down to write, but more often than not my comics wind up being an awkward, uncomfortable hybrid of horror and comedy (or at least they seem that way to me). So when I read that passage about archetypes, it immediately seemed like a great way to organize a graphic novel - in three "acts", if you like, or three chapters / stories, each one centering around one of these archetypal themes or monsters. Did I have these specific stories in mind yet? No, I didn't. But this seemed like as good a place as any to start. Would I adhere to this exact structure? Not exactly. But again, a good place to start. Part of the fun in making a new book is seeing where the story takes me.
I took this initial structural idea and combined it with images that had come to mind when thinking about what sort of story I wanted to tell and what sort of comics I wanted to draw. Images like a man with the head of a dog, or a man walking into a bar carrying his severed head under his arms, or a disappearing woman. Eventually the combination of these elements would lead to the book you hold in your hands.
Once I knew the final shape the book would take, I found myself thinking quite a bit about mysteries and what makes mysterious stories so compelling…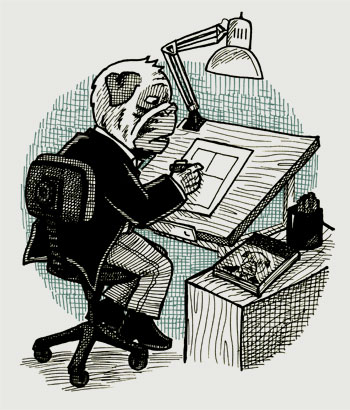 ON MYSTERY
"I love mysteries. To fall into a mystery and its danger ... everything becomes so intense in those moments. When most mysteries are solved, I feel tremendously let down. So I want things to feel solved up to a point, but there's got to be a certain percentage left over to keep the dream going."
"There is a plot. What would be the point of just a bunch of things? There's a story, but the story can hold abstractions. I believe in story. I believe in characters. But I believe in a story that holds abstractions, and a story that can be told based on ideas that come in an unconventional way."
-David Lynch
I quote David Lynch here for a couple of reasons. One, just because I love his movies, and as an artist he's a huge inspiration to me. I'd say he's one of the main influences on my work, whether I'm conscious of it or not in the making of a particular comic. The more relevant reason I bring him up is that he managed to articulate something I'd always felt about movies and books and stories, but had never been able to put my finger on. I recall around the time his movie Lost Highway (one of my favorites) came out, I read an interview with him in which he said he'd always loved mysteries, but was inevitably disappointed when the mystery was resolved. That being lost in a mystery, feeling your way through the details, making your own connections was a sort of magical state, like being in a dream. And when all is revealed, the solution can never be as great as what you've imagined, however abstract your imagining may have been. Man Behind the Curtain Syndrome, you could say (and just watch Wild at Heart to see how much Mr. Lynch loves The Wizard of Oz, speaking of men behind curtains).
So Lynch makes movies like Lost Highway, Mulholland Drive, and Inland Empire, movies in which the "mystery" is never exactly solved. Which isn't to say there is no solution to be found; instead the audience finds or intuits their own conclusion. How dull is it when at the end of a movie or book, you are just told straight out what was happening all along? This meant this all along, this character did this, etc etc. With few exceptions, it's usually a let down. To me it is, anyway. This is why any movie that hinges on just one big narrative twist will not often stand up to repeat viewings. Again, there are exceptions, but those usually are stories that have more to them than just the desire to surprise the audience with one plot point. What I find in Lynch's work, and in work like it, is that a story can have an ending that is narratively satisfying, that provides closure, but leaves room for the viewer or reader to in some way complete the story themselves, and can be more satisfying as a result.
"There are some people that are... I always say... that they don't like so much abstraction, they don't like to feel lost. They like to know always, always, always what's going on. And when they don't feel that, they feel a little crazy. And they don't like that. Other people - and I'm one of them - I love to go into a world; be taken into a world, and get lost in there, and feel-think my way, and have these experiences that… I know… I know that feeling, but I don't know how to put it in words. I know that feeling, and it's magical that this cinema brought it out. This is what I love."
"I keep hoping people will like abstractions, space to dream, consider things that don't necessarily add up..."
-David Lynch
"Space to dream." That's the thing. It's vital in creating a story, at least the kind of story I'm interested in telling, and in engaging with that story. I hope you can find that space when you read
The Black Well
, and that you enjoy inhabiting it for a moment...